By
admin
on December 3, 2012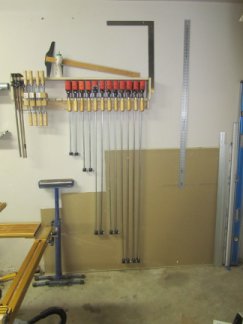 The holiday season is upon us.  The Redneck Engineer, along with contributing Bacon Fat Labs member Scott-O (you'll meet him soon) and several other of our mutual friends were over for our second annual after Thanksgiving Day get together.  Some of you call it "Friendsgiving".  Well, we're different (probably in a bad way) and call it "Thanksaturday".  After successfully deep frying a turkey on the driveway for the second year in a row without catching the house on fire (Thanks Zech!), and eating a fine high calorie meal that only your cardiologist and cholesterol would hate (Including Mrs. Redneck Engineer's Bacon Wrapped Jalapenos), the men retreated to the garage to regale each other in the stories of days gone by as the scent of sawdust, oil, gas and cigar (not from me, yech) somewhat covered up the inevitable flatulent episode from one of us.  I tripped over my parallel clamp collection as I walked out of the house.
Fast forward one week.  I took advantage of the warm weather in Dallas this past Saturday (76 degrees according to the weather station) and worked in the shop/garage/lab/death trap/place where I store crap.  After an 80+ hour week stuck at my desk, it was a welcome change.
For reasons that I don't quite remember, I had a few pieces of plywood that were set to the side and ripped to 3″ wide, and I also found another piece that was ripped to 5 1/4″ wide.  Shortly after that, I tripped over my collection of Jorgenson parallel clamps AGAIN that were leaning against the wall with no real place of residence.
Must. Fight. Urge. To. Put. Hole. In. Wall. With. Fist.  Okay, I didn't, but something definitely had to be done.