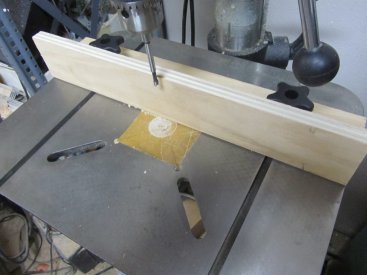 In the course of working on the "ethernet aware digital clock", I have identified several annoyances in my workspace that can be solved with a handy jig.  One such annoyance is a drill press fence that is *not* a piece of wood and two spring clamps.  Originally, I had planned to buy another drill press table with all of the bells and whistles like the one Woodpecker sells here, but I kept putting it off ever since we had a baby and, for some reason, I contracted a bad case of an Italian disease named "Mahfunzalo" at the very same time.  Okay, I can't back that up.  Mahfunzalo isn't a real disease, but I'm sure any new parent can relate.
I threw this little drill press fence together in under an hour with some leftover 5/16″ t-slot hardware and knobs from Rockler.  It consists of two pieces of 3/4″ cabinet grade plywood scrap (err, 23/32″ or whatever it is this week in particular), cut to 18″ by 3″ and a few pocket holes with screws to bring them together as well as some glue in between for effect.  The fence slides along the stock t-slots that are on the cast iron drill press table.  Another decent feature is that there is a slight chamfer on the underside of the leading edge that I beveled with a block plane for sawdust to fall into (so that it doesn't deflect the material against the fence).  It doesn't have the fancy measurements or flip stops, and every time I adjust the fence I have to use a square when I lock it down so it is straight, but for about 10 bucks in hardware, it does the ultimate job just as well, and I can reclaim two of my spring clamps for something else.
Here's a view from the bottom (click each image for full size), where you can totally see my "whoopsie" from not setting the pocket hole depth correctly, and the back.  That's right, it's utility woodworking and I don't care.
If you want to build your own, here are the links to the t-slot pieces and knobs that I got from Rockler.  You don't HAVE to use these, of course, and actually you could use 5/16″ hex bolts flipped upside down and whatever knob you can fashion, just make sure the hardware doesn't bind when you slide the fence.
5-star Jig Knob (Item 23812): http://www.rockler.com/product.cfm?page=25167&site=ROCKLER
T-Slot Bolts, 5 pack (Item 36677): http://www.rockler.com/product.cfm?page=16885&site=ROCKLER
I was going to do a sketchup drawing for this, but then I remembered: Your drill press is not my drill press.  I do hope that this gives someone incentive to build your own and save some money.  Let's face it: Egg Nog is back in stock for the holiday season, and we need every penny we can get our hands on to suck as much of it as we can down before it goes back out of stock!